Wallingford, Connecticut (PRWEB) October 10, 2011
Prudential Connecticut Realty and PlanOmatic have entered into a corporate agreement to provide PlanOmatic photography and floor plan interactive home tours to Prudential CT Realty's agents. As a result of this partnership, PlanOmatic is now a recommended vendor, which entitles the broker's agents to exclusive pricing and services by the marketing provider.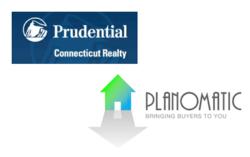 "We are excited to be able to now offer PlanOmatic products and services to our agents," said Jeff Spiegel, Prudential CT Realty's Marketing Director. "Their professional photography, attention to quality and dedication to mobile platforms are the key reasons we chose to include them into our recommended vendor program. This is a great opportunity to market our listings at a high level, and a tremendous opportunity for our Fine Homes Division."
"We have worked with Prudential CT agents all over the state for quite some time now and with positive results," said Kori Covrigaru, PlanOmatic CEO. "Once the opportunity arose to work directly with corporate, and have their approval, it wasn't rocket science to get the deal done."
Prudential Connecticut Realty is a full service, locally owned company backed by the strength of a solid national and global brand. Our core values, service philosophy, cutting edge technology and most importantly our people, are what make us the leading real estate company in all the areas we serve. We are committed to providing the highest quality real estate services possible and making each customer experience one that surpasses their expectations.
PlanOmatic offers full service floor plan and photography interactive home tours in regions across the US. They are best known for high quality photography, customer care and being a technology leader in the industry. PlanOmatic was the first real estate marketing firm to offer PhotoPlan Mobile, an interactive floor plan optimized for iOS devices (Apple's iPhone, iPad and iPod touch). Recently, PlanOmatic made a giant leap by ridding their product of Adobe Flash, a move also made by Google, Facebook, YouTube, etc. PlanOmatic offers an array of software licensing services in addition to their full service floor plan and photography division.
# # #