Shelton, Conn (PRWEB) July 11, 2013
Today, the William Raveis Breast Cancer Fund announced its inaugural class of partners for the newly launched Partner Program. Partner companies support the mission of the William Raveis Breast Cancer Fund by donating a portion of each sale, and in some cases other financial incentives to the Breast Cancer Fund.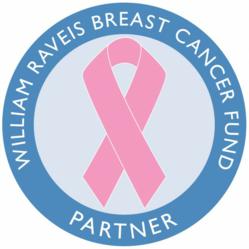 "By partnering with the William Raveis Breast Cancer Fund, these companies have another way in which to give back to the communities they serve," said Bill Raveis, chairman and chief executive officer of William Raveis Real Estate, Mortgage & Insurance. "Our partners are joining us in the fight against breast cancer, and we look forward to growing the program as we move forward."
Since 2004, the William Raveis Breast Cancer Fund[1] has raised over $1.6 million to support the William Raveis-ASC Patient Navigator Program at the University of Connecticut Health Center in Farmington, Conn. and the Patient Navigator Program at Beth Israel Deaconess Medical Center in Boston, Mass. Combined, these two Patient Navigator programs assisted more than 1,300 patients in 2012.
"We are very excited to welcome our first partners, SWAT Environmental and PlanOmatic, to the program," said Bill Gamelli, senior vice president of customer services at William Raveis, who developed and manages the program. "We're proud to have partnered with such highly respected companies. They were perfect fits for the program because of both the services they provide and their presence in the Northeast."
Soil, Water and Air Technologies (SWAT) Environmental is the nation's largest provider of radon reduction and vapor intrusion mitigation and remediation services. Since opening their doors in 1988, SWAT Environmental's team has corrected radon problems with 100% success.
"We're so excited to be a part of this amazing program," said Eric Schmitt, president of SWAT Environmental Connecticut, New York, Rhode Island and New Jersey. "I've had the pleasure of working with Bill Gamelli from the early development stages of the Partner Program, and knowing how well respected William Raveis is, not only in Connecticut but throughout the Northeast, drove our decision to be so heavily involved."
"The William Raveis Breast Cancer Fund Partner Program is a wonderful opportunity for us," said Adam Neale, president of SWAT Environmental Massachusetts and New Hampshire. "I couldn't be prouder that SWAT Environmental is one of their first partners.
PlanOmatic offers full service real estate marketing tools that engage potential buyers in a stunning visual experience. By combining interactive floor plans enriched with elegant professional photography, PlanOmatic helps brokerages market their listings better and brand themselves professionally.
"We've been searching for a noble cause to contribute to for quite some time, and we're thrilled to partner with William Raveis and the Breast Cancer Research Fund," said Aaron Rose, vice president of corporate accounts and co-founder of PlanOmatic. "We're excited about strengthening our relationship with William Raveis while supporting such a great foundation."
About SWAT Environmental:
SWAT Environmental is the largest radon & vapor intrusion company serving Connecticut, New York, Rhode Island, Massachusetts, New Hampshire as well as Northern and Central New Jersey. Their knowledgeable staff has over 100 years combined experience in the indoor air quality industry, and has successfully mitigated soil vapors in residential houses, schools, townhouses, condominiums, businesses, and government buildings. They currently have the largest number of soil gas mitigation professionals in the world.
About PlanOmatic:
PlanOmatic offers full service floor plan and photography interactive home tours in regions across the US. They are best known for high quality photography, customer care and being a technology leader in the industry. PlanOmatic was the first real estate marketing firm to offer PhotoPlan Mobile, an interactive floor plan optimized for iOS devices. PlanOmatic offers an array of software licensing services in addition to their PlanOmatic PhotoPlan division. For more information, visit planomatic.com.
About William Raveis Real Estate, Mortgage & Insurance:
William Raveis Real Estate, Mortgage & Insurance is one of the top companies in the nation. It was ranked in 2012 by sales volume in Real Trends 500® Magazine as the #1 family-owned real estate company in the Northeast, the 3rd largest family-owned and the 8th largest real estate company in the USA. The innovative firm is known as an "Award-Winning Team," being nationally recognized as an industry leader in technology, marketing and REALTOR® education. Such recognition includes winning the coveted "Most Innovative Brokerage or Franchise" distinction and placing as a finalist for "Most Innovative Website or Web Service" at Inman News' 2011 Innovator Awards, held in San Francisco, California. William Raveis' award-winning website, raveis.com, draws more than 10 million visits annually and includes more than 300,000+ MLS listings in Connecticut, New York, Massachusetts, Rhode Island, New Hampshire and Vermont.
For four consecutive years, William Raveis has been named as "The Best Real Estate Company" by the Commercial Record and was awarded the Banker & Tradesman's Gold Medal Residential Brokerage award from 2008-2011. William Raveis was also named the #1 "Best Place to Work" in 2010 & 2012 by the prestigious Boston Business Journal. The Boston Business Journal placed the firm as a finalist "Best Place to Work" in 2011.
William Raveis Real Estate is a household name in its founding state, CT and is the #1 real estate company in world-renowned Fairfield County. The company entered the Massachusetts marketplace in 2003 and, according to the 2010 closed sales volume in the Multiple Listing Service Pin, is now the largest independent brokerage in that state with 30 offices. William Raveis recently expanded into New York and presently has offices in Rye, Harrison, Katonah, Chappaqua, Tarrytown and Briarcliff Manor in Westchester County and offices in Nyack, Rockland County. The firm has 3,000 highly trained sales professionals and over 90 company-owned and affiliate offices in New York, Connecticut, Rhode Island, Massachusetts and New Hampshire. For more information, visit raveis.com or blog.raveis.com.
[1] The William Raveis Charitable Fund and the William Raveis Breast Cancer Research Fund are a 501 (c) 3 non-profit charitable organization.