Agent Reboot, hosted by Inman News, is a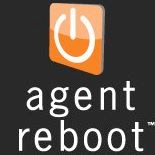 real estate event that travels to various cities presenting a day of educational talks by the industry's most successful and innovative people. Its purpose is to get agents up-and-running with a fresh arsenal of information, strategies, and technology.
I had the opportunity to attend Agent Reboot in Denver this week, and I left with a lot of valuable insight. I rounded up a few of my favorite tips and takeaways for agents and brokers.
Using Listing Photos to Drive Traffic to Your Online Properties (Stacie Staub, Director of Marketing, Live Urban Real Estate)
Don't try to utilize every bright and shiny app you come across. Use the tools you already have.
Photo are very important for listings (for many reasons) and are the most underused tool in real estate.
Be Fearless. Be Real. How to Humanize Your Brand Using Social. (Cory Jo Vasquez, Sr. Social Media Marketing Mgr., RE/MAX)

Companies don't create brands, people do. Make an emotional connection with your target audience.
When it comes to business decisions: if it scares you, it may be a good thing to try!
Act Like a Startup (Zach Schabot, Founder, Go Realty)
Be inspiring to your clients.
Make happy connections with your employees (or colleagues) and your clients. Have a positive attitude and don't compromise that.
Social Business: 10 Super Powers Every Marketer Needs Now (Seth Price, Dir. of Sales & Client Care, Placester)

Don't copy. Model.
Employ these traits in your marketing: Leadership. Listening. Sharing. Patience. Engagement. Nurturing. Writing. Unpretentious. Responsive. Newsworthy. See his infographic.
eDearment: The Art of Digitally Hugging Your Clients and Community (Brian Copeland, Chief Engagement Officer, Village Real Estate Services)
Research different consumer types (he listed Achievers, Emulators, Belongers, and the Socially-Responsive) and focus your aim.
Online or offline, love people! Find the good in what you do!
All of the speakers, including those not mentioned here, deserve many kudos for their incredibly insightful talks. Check out the Agent Reboot website to see if it's coming to your city! I give this event two big thumbs up and would recommend it to all agents and brokers.